Past Events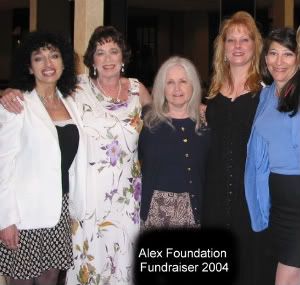 The  Alex Foundation Fundraiser – Hackensack, NJ .Rose, Trudy, Betsy, Lisa & Dr. Pepperberg-APRIL  18, 2004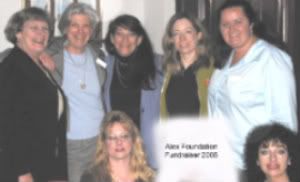 The  Alex Foundation Fundraiser Dinner-Cafe Gallery,Burlington NJ
Liz Wilson, Maggie Wright, Dr. Irene Pepperberg, Dr. Laura Wade, Dr. Cyndi Brown,
Lisa Bono and Rose Lawlor-April 23rd, 2005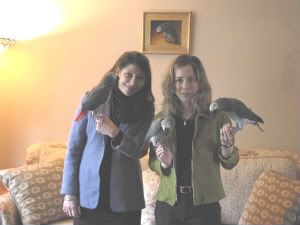 Dr Laura Wade, ABVP and Dr. Irene Pepperberg with Sydney Bell, Emma Lynn & Stirling- Ewing, NJ-2005
      Dr.  Pepperberg- Alex Foundation Fundraiser- Barnegat NJ  -Oct,2009
 Lisa, Dr. Pepperberg, Shari and Dr. Sam Backos, ABVP-  Pompano Beach, Florida-2011
Dr. Pepperberg, Lisa & BirdTalk writer-Patrica Sund. Boca Raton, Florida-2011
       Christmas Basket for the Zoo Birds, one of several sent.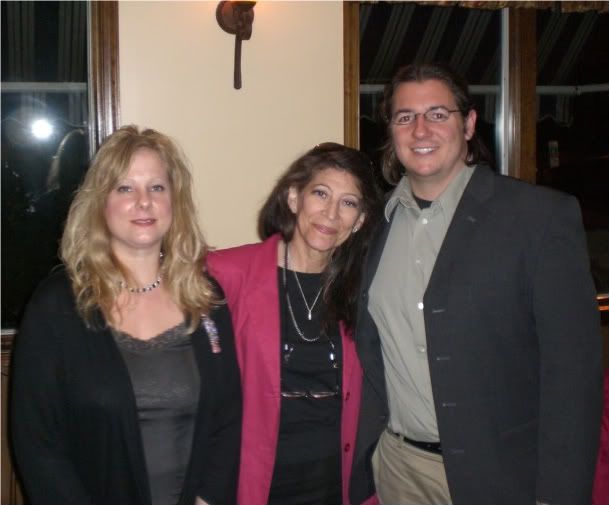 The Alex Foundation Fundraiser- Oct 2011 with Lisa, Dr. Irene Pepperberg and Dr. Jeff Applegate, DVM-Barnegat NJ, 2011
       Dr. Irene Pepperberg & Dr. Nicole Wyre, ABVP - Oct 2011, Barnegat NJ
                        In attendence at Parrot Festival to benefit The National Parrot Rescue & Preservation Foundation-Patricia Sund, Robin Shewokis, Lisa A. Bono, Jessica Pineda, & Dr. Susan Orosz, ABVP - Houston Tx, 2012
 Grey seminar- Lisa A. Bono as guest speaker- Funds raised for The Alex Foundation- Deerfield Beach, Fl. June 2012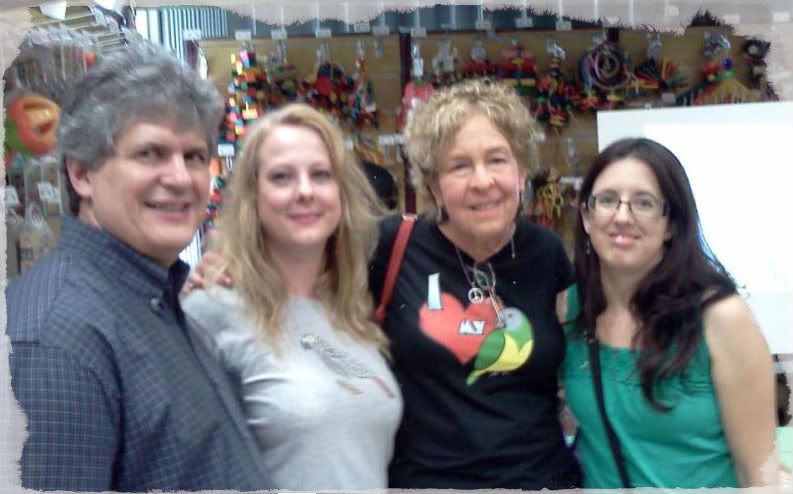 Dr. Sam Backos, ABVP- Avian, Lisa, Barbara & Maria.   Deerfield Beach Fl.- June 2012
Parrot Festival- Jan  2013. Macaws belong to and trained by:  Debbie Goodrich
Alex Foundation Fundraiser- Sea Oaks, LEH NJ April 2013-
Dr. Andrea Antonelli Rella, Dr. Pepperberg, Dr. Anthony Pilny, ABVP-Avian, Lisa A. Bono
Florida West Coast Avian Society- June 2013. Gini Hyman, Lisa & Shari
Iron Chop with Patricia Sund.
African Queen- Jean Pattison and Lisa A Bono at the AFA-2013
AFA 39th annual convention- Raleigh, NC.
The International Association of Animal Behavior Consultants team members of the parrot division at the American Federation of Aviculture convention in Raleigh, NC. Jon Peterson (NJ), Lisa A Bono (NJ),  Hilla Niemann (Germany) Jamie Whittaker (TX) Emily Trimnal (NC) & Kashmir Csaky (VA)
Phoenix Landing Wellness Retreat 2014
Emily Trimnal(NC) Jon Peterson(NJ) Shari Mirojnick(FL) Caitlin Tripler(NJ) Dr. Pepperberg
Bird Lovers Club Holiday float- Hollywood Fl. 2013
Lisa Bono, Patricia Sund, Shari Mirojnick, Sandy Lender, Dr. Susan Clubb,ABVP.
Invited speaker at LIPS
Long Island Parrot Society annual show.